Tentacle Beach Party APK Android Adult Game Download
Tentacle Beach Party is a casual strategic adult game that combines an exciting visual novel as you move through the gameplay. Players will experience a new standard of excellent background music, a compelling storyline,
and artwork of the utmost quality.
The game will immerse you into a beach resort fantasy that is filled with beautiful girls dressed in cute and stunning bikinis. Your primary objective is to abduct each of them while avoiding detection.
The story begins on an unusual planet ruled by a Tentacle God, Ythogtha. After his son was born whom he named as Kaireus, he sent him to Earth and gave him a mission to refill his fuel using lewd liquids.​
Release Date: 2022-10-29
Developer: Yukarigames Patreon – Subscribestar– Discord–Twitter – Itch.io
Censored: No
Version: Demo
OS: Windows, Mac, Android
Language: English
Genre: 2dcg, animated, monster, tentacles, sci-fi, vaginal sex, oral sex, big ass, big tits, groping, rape, male protagonist, pregnancy, creampie, group sex, anal sex, multiple penetration, minigames, mobile game,
How to Play
Every level has a certain requirement that you must follow in order to keep your fuel bottle meter from dropping. You can only capture one kind of girl per stage and reach the required number of that specific girl before proceeding onto the next level.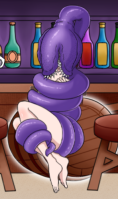 However, if you catch a different kind of girl during that time, you will lose some of your progress. Each level in the game gets harder as you advance, making it more difficult to capture girls. Your goal is to complete all 15 bottles with lewd liquids through the barrels.


Press < > on your phone screen and < > or A D on your keyboard to move on the right or left barrel. Use the SPACEBAR or the CIRCLE button to capture a female.
Ensure that no one witnesses you catching your target, or else the other girls will be surprised and you will lose people at your beach resort.
When a girl sits on a bar stool or a sunlounger, the barrel beside them will turn red and be disabled, preventing you from catching your targets.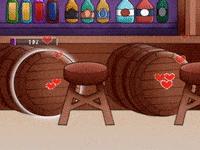 After the barrel finishes collecting one lewd juice, the girl who has been released will appear horny and will never be captured again. To your advantage, horny girls will not be surprised if they encounter another female being taken or being released from a barrel.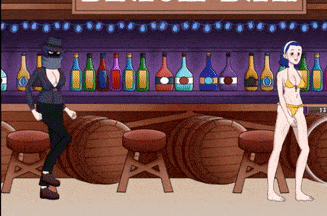 Lastly, keep in mind to look out for the Detective! For she will walk across every barrel and all of the girls inside will be released, making you lose all of your progress. Best of luck!
Upcoming Content
More Areas ( Under the Pool, Night Market, etc )
More Lewd Scenes
Custom Characters
Double barrel. Ability to abduct two girls at the same time.
Multi-language ( Chinese, Russian, etc. )
Voiceover for moans.